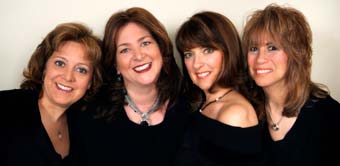 Saturday night my mom and I went to see a performance of the "Four Bitchin' Babes" at the Largo Cultural Center. Very comfortable venue. I'm thinking that is because it is small so everything is close (restrooms, parking) unlike the larger facilities such as Ruth Eckert Hall or the Tampa Performing Arts Center. I would definetly attend another performance at the Largo Cultural Center and most definetly recommend Four Bitchin' Babes to other women, especially middle-aged women.
They were hysterical and so talented! Mom and I were captivated and the performance seemed to last only a half hour although it was 2 hours. Funny, funny songs that "women of a certain age" can relate to. Songs about shoe shopping, hot flashes, chocolate....you get the drift.
Funny coiencidence - Jerry and I and the mom went to the Thirsty Marlin for dinner last night and, not surprizingly, my mom had the fried shrimp. One of the babes was talking about being on Weight Watchers and the points and how her friend shrimp dinner at the Thirsty Marlin cost her 80 points. I don't recall seeing them there but we go to dinner really early for my mother-in-law and since the performance didn't start until 8pm, we probably missed them.

I had the Mahi-Mahi and it was fabulous - slightly chargrilled on the outside and moist and succulent on the inside. The way fish should be. Jerry raved over his chickena nd portabelo mushroom entree and Marge, who had a hard time finding something that sounded good on the menu to start, really liked her prime rib quesadillas.
Photos are links from the Babes website and the cultural center's web site